About Tattoo Removal - PhiRemoval
Tattoo removal treatment – PhiRemoval is the best and the safest method for removal of poor quality PMU or tattoos. This product is created with love and for skin care. It is of great importance because all surgical tattoo removal methods are both painful and leave large scars.
Common Reasons Why People Removing Tattoo
PMU or tattoo looks old fashioned
PMU or tattoo is of poor quality
pigment migration
not satisfied with the shape
unwanted pigment evolution
social causes
PhiRemoval Process
1

The tattoo removal is used in similar way as tattooing or micropigmenting, with the same equipment

2

The tattoo extraction formula starts working almost immediately after drawing the original tattoo ink, moving upwardly through the skin.

3

The scab with tattoo ink will be formed over the treated area in the next few days. While the skin heals even more unwanted tattoo ink will be drawn out.

4

The scab will start to peel off naturally, extracting the unwanted tattoo ink. You are likely to have a secondary scab containing even more tattoo ink.

5

After the procedure and as long as you have the scab on the skin, keep this treated area dry.

6

Using PhiRemoval we can achieve amazing results for fade them to cover ups or completely remove your tattoo.
PhiRemoval
Result after 4 Treatment Sessions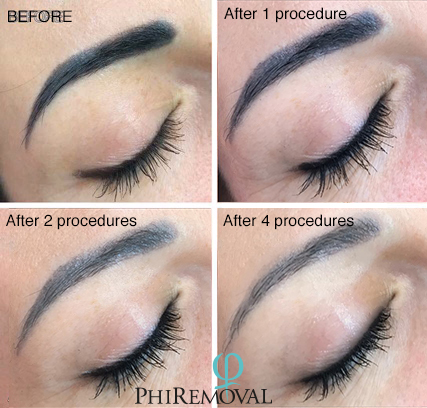 Important Things about PhiRemoval
Not all tattoos will reach 95% removal, depending on depth of ink and colours of pigments.
Most tattoos will lighten to the level that they can't easily be noticed, but small traces of ink will still be present
The number of procedures required for optimal results depends on the size, location, depth.
Most procedures can take 2 or more appointments for ether lighten or remove pigment. As one colour comes out, the underlying pigments may appear.
Procedure should be performed 6-8 weeks apart in order to allow the body to remove the maximum amount of tattoo pigment after each procedure
Each session usually takes 50-60 min. You will continue to see lightening of your tattoo after each procedure as your body disposes of more pigment.
Right after your treatment, area around the tattoo may become reddish and appear swollen. This is normal and will disappear slowly overtime.
Please Contact Us
Consultation is required to discover about the number of procedures and price for tattoo removal. Please contact us for more information.